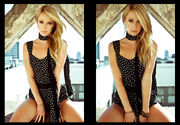 My name is Hannah Douglass. Or HannahDlaine.
My full name? Hannah Dlaine Douglass.
My profile picture is me. Wanna see more of what I look like? Click here.
Dlaine is pronounced as "Duh-lane" but say it fast or just call me Hannah!
I chose "Dlaine" because my Twitter name is "@HannahDlaine" since HannahDouglass was already taken but Dlaine is my middle name!
I'm 26-years old and I am a dancer for Austin Dance Studios and I am a dancer, actress and model. 
I have 3 dogs named Smokey Bear, JoJo and Smalls.
I am a cheerleader in FOX hit show, Glee. I dance in Footloose and was a back-up dancer for Beyonce's 2013 SuperBowl concert. I am now officially a Mrs. Carter Dancer for Beyonce.
I used to be in a relationship with Grant Gustin but we broke up in November because of his process of moving to film "Arrow" and my Beyonce tour as a back up dancer all around the world... so long distance relationships don't work out.
( THIS IS A ROLEPLAY PARODY ACCOUNT.SO I AM NOT HANNAH DOUGLASS )
If you can, please read fanfiction stories! My good friend, Marykate is really good at writing them!
FanFiction site: www.quotev.com/osnapitzmkate
Follow me on Twitter: @HannahDlaine
Follow me on Tumblr: www.douglasshannah.tumblr.com
My catchprase is "gold!".
I wanna contribute more often on Suite Life Wiki and Ringer Wiki.
PLEASE DO NOT STEAL ANYTHING FROM THIS PROFILE AND DON'T EDIT IT OR I'LL ASK User: Soxra to ban you for vandalism.
Bye now! Dance off!
Community content is available under
CC-BY-SA
unless otherwise noted.