Siobhan's Office
is a secret office located in
New York City
.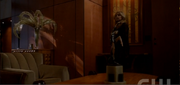 In It's Easy To Cry When This Much Cash Is Involved, Bridget enlisted the help of Soloman, Siobhan's driver. She has him drive her to the past few places he took Siobhan . One of the last stops is an office. Meanwhile Siobhan is, unknown by Bridget, hiding in the closet.
The key with the boat-shaped keychain that was taped to the underside of the desk had been discovered by Bridget in the office but was later stolen by Siobhan in Siobhan And Andrew's Apartment.
When Bridget goes back to the office a few days later, she finds foot prints.
Bridget visits the office again with Malcolm in Whores Don't Make That Much and finds the office completely empty of furniture.